A guest post by Stephan McLeroy.
The stars align, again, an offered choice. In Bearer Thomas's hands: a jar of strawberry jam and another of apricot.
The pitch portal coalesces over chalk symbols. Gangrenous tendrils burst forth. One preserve falls, the other leaves with Thomas into darkness.
Cultists scramble, inspecting portents divine. The creature beyond wonders why sacrifices are always fruit-flavored.
---
About Stephan McLeroy: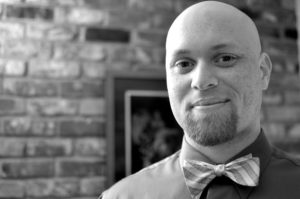 Stephan McLeroy is a historical urban fantasy writer based out of the San Francisco Bay Area. He is currently working on a new novel when not bearing the burden of process management and implementation at a local cider house tasting room. If you'd like to hear more of his thoughts on things like writing and Elder Fashion Cocktails, check out his blog:
http://stephanmcleroy.com/