Getting to where I am today has been a long and winding road… and it definitely wended through some unexpected territory. I started writing at the ripe-old age of six, in 1989. My first-ever story—titled The Magic Christmas Tree—won a CBC radio contest here in my Canadian homeland and the complete text was read live on the air during the morning drive to about a million people. Hilariously, that probably represents my greatest marketing reach so far. It's been all downhill from there, folks!
But I kid.
Writing, not surprisingly, does not (yet) pay the bills, which brings me to my day job as a book editor. I got my start when a friend of a friend, who operated a small press, was looking for a contract proof-reader. I thought I was eminently qualified, and it would make for a great book-related part-time gig. A decade later, that gig is now extremely full-time. And not only do I edit books, but I now also edit a newspaper—the perfect encapsulation of how freelance careers constantly evolve and change over time.
For a brief moment in time from 2007–2008, however, I added another line to my résumé: ghostwriter. The combination of my journalism degree, editing, and writing skills made this seem like a perfect fit. In that single experimental year, I wrote a total of three books on contract—one of which was published traditionally, another which was self-published by the author, and a third whose fate remains a frustrating mystery.
The first book I worked on is actually the mysterious one. I was contracted by a publisher to conduct extensive interviews with the author, then fashion that raw material into a 75,000-word memoir—or at least, the first draft. I was hired for nothing beyond that. The project lasted two months, from start to finish, and indeed I wrote a first draft just shy of 75,000 words. That's the fastest I had ever written, but I was driven to meet the tight deadline. I haven't read this manuscript since I proofed it, and frankly I'm a bit scared to. The publisher was very pleased with the result, and so was I at the time, but nothing came of the project. While I continued working extensively with that publisher for another year, I never heard back from the author, despite many attempts to reach out—which has always puzzled and frustrated me. I would sure love some closure, but I think it's unlikely at this point. My strong suspicion is that the author's relationship with the publisher deteriorated significantly, and the radio silence had nothing to do with me. Anyway, like I said, I haven't reviewed the manuscript since, but the author's story was a very dramatic one. It's too bad nothing came of this. With some additional collaboration and polish, I feel this could have been a phenomenal book.
The second ghostwriting project came along about six months later, through that same publisher. In this case, I was working with two authors—a brother and a sister—on a memoir with dual narratives. Just like the last one, it was a hugely dramatic story and I was excited to be a part of it. This book proceeded similarly, and in a comparable timeframe, but the manuscript was only half as long. It was a very challenging memoir full of child neglect and intense abuse—physical, sexual, and emotional. This was a rollercoaster. The final, edited manuscript ended up just shy of 40,000 words and was duly published. This one I have read since, and I remain proud of it. I also have a great relationship to this day with one of the two authors, and it has since led to a number of great professional opportunities—one of which, in a really roundabout way, was attending the first Superstars Writing Seminar in Pasadena. Overall, a challenging but satisfying experience.
I performed many other editing projects for that publisher, but no further ghostwriting opportunities came up in the months that followed. We amicably parted ways a short time later.
Around this time, a close friend of mine hired me to help him write a book, and this is the one that ended up being self-published. I worked closely for several months with him and his wife, producing a great, short manuscript of about 30,000 words that carried a lot of punch. It was based on the author's messy divorce and subsequent relationship woes. Instead of being a full ghostwrite, this was more of a collaboration, with the author and his wife contributing about half of the material. I then edited all that and grafted it into the larger manuscript I'd been working on. In fact, I believe this book ended up winning an award or two. I still have copies of this book kicking around my house, and I'm quite fond of it. The authors continue to be among my most cherished friends.
Even though I ended up not pursuing a ghostwriting career, my experiences were largely positive. The only reason I didn't continue is because I decided not to market myself; starting in 2008, I took on a huge glut of very profitable editing work that took priority, and I haven't had occasion to look back. I don't regret leaving ghostwriting behind, but I also can't say with any certainty that I won't try it again someday. I can honestly say that it was intensely challenging and enjoyable. I grew by leaps and bounds that year, producing my best writing output before or since.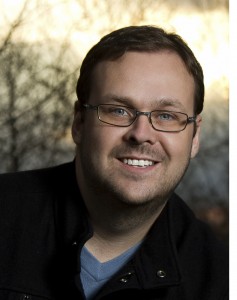 Evan Braun is an author and editor who has been writing books for more than ten years. He is the author of The Watchers Chronicle, whose third volume, The Law of Radiance, was released earlier this year. In addition to specializing in both hard and soft science fiction, he is the managing editor of The Niverville Citizen. He lives in Niverville, Manitoba.