I was in elementary school when I first recognized that I hated outlining. I didn't see the point. I remember watching The Return of the Jedi with a misperception that each scene was written then shot sequentially. I thought that George Lucas dreamed up Endor after he had already filmed the demise of Jabba the Hutt.
Writing after brainstorming always felt bland and shallow. It wasn't until a few years ago that I realized my condition had a name. I am a discovery writer.
I'd rather get a root canal than put together Ikea furniture. I can't stand building something from plans. There's absolutely no joy in it for me. My wife on the other hand loves these type of projects. She likes seeing them develop exactly as they should. When I cook, I seldom use a recipe. If I have a recipe, it's more of a suggestion tool than a plan. In fact, I make a note to deviate from the recipe. I think that the reason I don't like Ikea plans and recipes are the same reason I don't like to outline. For me, the fun is discovering the end result. With recipes, plans, and outlines I can easily visualize the ending and so the final result isn't gratifying, it's just expected.
But discovery writing while fun and enjoyable is probably the least productive form of writing. I knew that I'd have to face these demons if I ever wanted to be a successful writer.
David Farland wrote a book called Million Dollar Outlines. For it's title alone, I avoided it like a plague thinking that it would chastise me for being a pantser and seek to take some of the fun out of my writing. A couple of years ago, after months of less than productive writing, I consulted this book.
First off, it doesn't push you to outline or discovery write, but helps you recognize your writing tendencies. Second it gives a ton of information on how to use your style to write really good stories.
After reading Million Dollar Outlines, my productivity shot through the roof. I realized that everything I had written before was pretty much garbage, and I started integrating tips from the book to help my stories develop.
Before the book, I had this hangup where I viewed anything that I discovery wrote as "artistic inspiration" and therefore was off limits to modification. After reading the book I was able to give myself permission to make adjustments that greatly enhanced the story.
A little over a year ago, I came across a story idea that I just had to write. Before He Was Commodore is a middle-grade historical fiction based heavily on actual events. In a way, the actual events provided an outline. I was able to map out a skeleton of the story and then discovery write parts of the tale that were missing. Even though I kind of knew how the story went, I still experienced it as I added the meat to the bones.
Another problem with being a discovery writer is my WADD-writing attention deficit disorder.  I am currently writing four novels simultaneously. It's absurd, I know, but I've learned how to make it work. The trouble is that what I read, what I watch, what I play, all has influence on my writing. Two weeks ago I was working on my novel Veil Breaker because I was also reading Maze Runner and something there pricked an idea. This week I am watching Breaking Bad and Reading a John Grisham novel which means I am working on my thriller Unknown Soldier. Mistborn and Way of Kings lead to me working on The Broken Amulet. Steelheart to me working on Biverse.
I use to get frustrated with my methods, but now I realize that this is how I eat an elephant, or four. One bite at a time, off whatever one sounds appealing in that moment. All four stories are progressing and I know that I can finish them, as I finished Before He Was Commodore.
I've given myself permission to take it easy. I can discovery write a bunch of crap and that's okay because I can tune it up in the the second and third and fourth passes. I've given myself permission to write what I want when I want. I've written near thirty thousand words this month and edited another thirty thousand. Even though that word count was across four different stories, they are all further ahead than they were last month. I'll get there eventually, just got to keep writing.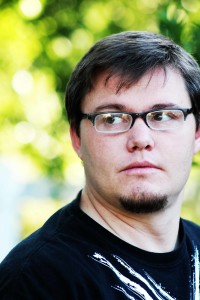 I live in Arizona with my family, wife and five kids and a little dog. I write fiction, thrillers and soft sci-fi with a little short horror on the side. I've got an MBA and work in finance for a biotechnology firm.
I volunteer with the Boy Scouts, play and write music, and enjoy everything outdoors. I'm also a novice photographer.
You can visit my author website at www.jacekillan.com, and you can read some of my works by visiting my Wattpad page.