I've always admired people who can write short stories. Packing everything needed for a good narrative into less than 10k words is a skill that I struggle with. Besides some success I've had with horror short stories, short fiction is not my forte. Plus, I always want to put a silly surprise at the end, which a lot of editors don't love.
Last year I went to a conference and heard a couple of people talk about Flash Fiction.
Flash Fiction is a story in 1,000 words or less.
Yes, you read that correctly, 1,000 words or less.
During a session at the conference, the presenter gave us some randomly generated story parts (character, setting, genre) and then gave us twenty or so minutes to write a flash fiction story about it.
Can I just say that I loved it? It was liberating staring at a blank page, typing my "parts" at the top, and then trying to put them into a cohesive story that would only last 1,000 words.
I don't usu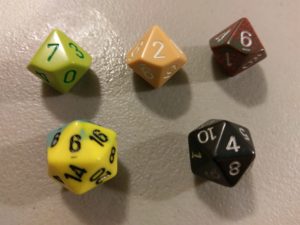 ally struggle with commitment, but I tell you what, these little things are commitment free, and highly addictive. I was hooked after one, wrote a horror flash fiction for an anthology the next day, and then decided I would adopt the platform of Flash Fiction on my website.
Now I kind of stole the randomly-ish generated theme, genre, character…idea from the presenter. I came up with my own five categories, and filled them up. I then dig into my husband's D&D dice bag and I see what fate has in store for me this week.
Voila, Flash Fiction Friday!

The great thing about it, is things have to connect, but not everything has to be explained. You don't have time to go into a great deal of background, so to say the character is an angry mobster bent on revenge is enough. And the narrative is so short that it almost has to be a snap shot—a moment where something changes. Or when something should change, but it doesn't. Get in, tell the story and get out all in less than two pages, single spaced in Word.
If you're interested in writing, try it. If you're having trouble with writer's block, try it. If you're looking for something new, try it. It's like a cookie verses an entire cake. Take a bite and walk away.