Work-life balance? Ha. If I wrote this blog post on a random Tuesday, it might be about the fact that I have finally managed to achieve a fragile balance and I'm working to maintain it. On Wednesday, I might write about the fact that I have no balance at all, and frankly it's a bit depressing and balance might be impossible anyway. And on Thursday, I might write that I enjoy great balance.
So, as you can see, my thoughts on this subject are schizophrenic and highly unstable.
I love my family and my job is usually slightly better than tolerable (more than a lot of people can say), but like so many of us creative types I still occasionally entertain this fantasy that I could someday devote myself one hundred percent to my chosen work and not have to worry about all the other things. I fantasize that I could write nine or ten great books per year. In this scenario, my preferred cause of death is "creative exhaustion," something which may but almost certainly doesn't exist in the real world.
Lately I've been working on my writing career only intermittently, but I have big plans. (Don't we all.) The main culprit is that I'm growing a new business that is flourishing beyond my initial expectations, and my other day job is finally becoming more lucrative than it ever has been before. So I'm a bit consumed with establishing my heretofore nonexistent nest egg. As such, my life is stable and mostly happy, but the outlook of my writing career fluctuates month to month, day to day, sometimes hour to hour.
Of course, this is a normal amount of confusion. And we're all afflicted with it.
I will be the first to say that the kind of balance we all crave is elusive. I'd like to tell you that I believe long-term balance is possible, and here's how to do it—but I don't know if I really do believe that. Like any successful marriage (or comparable relationship), the balance between a writing career and the rest of one's life must be constantly renegotiated. Solutions and strategies will change over time.
One strategy that works well for me is one of the oldest, so tried and true that it almost doesn't bear writing about—except that it works so well for me that I still consider it a game-changer. Just break down your tasks into manageable bits, and track your daily process. Just two things, but they change everything.
I'm a huge proponent of tracking daily progress, which I've written about before on this blog. I track the number of words I write daily, the number of pages I get edited… even the number of minutes I exercise (as well as distance traveled and calories burned). The numbers make the progress substantial and real.
Because I need goals to succeed at anything. I'm not a good "casual" writer; I'm either all-in or it's not on my radar. But all-in doesn't have to mean all-consuming. For me, all-in means that I'm writing or editing a little bit everyday, in a way that I can track.
It's not exactly a secret, nor would most people be surprised by any of this. But the keys to true success—unlike what those obnoxious click-baity Buzzfeed headlines will tell you—are rarely secrets or surprising.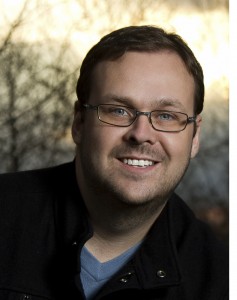 Evan Braun is an author and editor who has been writing books for more than ten years. He is the author of The Watchers Chronicle, a completed trilogy. In addition to writing both hard and soft science fiction, he is the editor-in-chief of The Niverville Citizen. He lives in Niverville, Manitoba.