Welcome to Agnara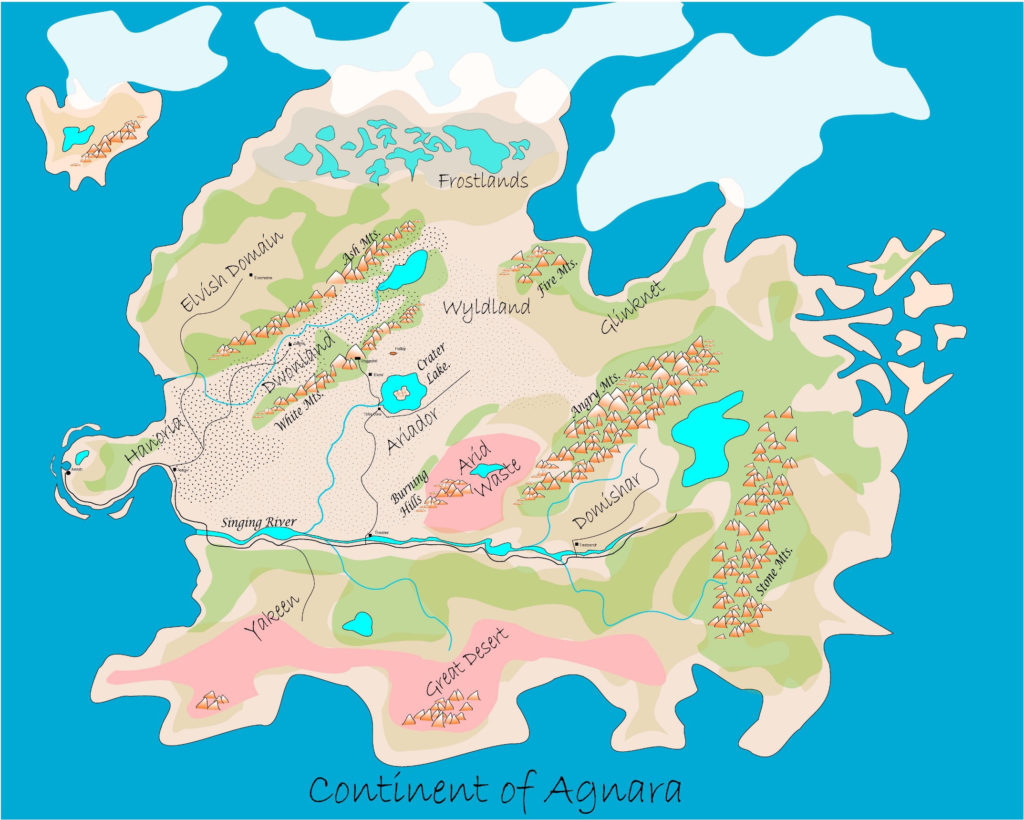 Welcome to a story that has been growing, evolving and branching into new lands, new realms and new worlds for going on forty years now. Pretty much every part of this continent has been part of the story, as well as other continents and islands not shown here. But it's all one story.
Yes, it's a Role Playing Gaming campaign. But "campaign" is too small a word for it. It probably left "epic" behind a dozen years ago. Hundreds of characters have been created, lived, died and a few have become demigods in their own right.
It all started here:

If you look close, you can see a small black star that marks the location of both the first D&D session I ever ran, and the first story told in this world.
The thing is, that this story is not my story. It's a story with dozens of writers, all working together to create a sweeping tale of triumph, tragedy and humor. But all of that follows a thread, and occurs on a stage that I did create, and continue to create to this day.
It's a world with dark secrets, powerful and evil villains, and great heroes. The first campaign followed the near extinction of the entire race of dwarves, and the heroism of a now-legendary party who fought to the very gates of hell to restore dwarvenkind to the world.
But that was merely the start. From there the story spread across seas, and even across worlds. The great heroes are immortalized in legend, song, monuments, even the names of cities. Ceorl the half-elf wizard, Drax the Defender, Dane the Deadly, and finally Forkovr the dwarf, whose exploits were so astonishing that he rose into the ranks of the divine, and whose followers now rival the size of other sects.
While heroes tend to come and go, the great villains are somehow never fully defeated, rising from the ashes again and again to threaten new generations of Agnarans.
I started this world around 1980, and it has hosted campaigns using several RPG rules systems. But the story goes on.
This isn't all fun and games. Although it mostly is. I learned a great deal about story telling, about conflict, about character development and plot. Most of that works as well in novels as it does at the game table. I also learned how to create highly detailed, imaginative worlds filled with a diverse collection of races, political intrigue, economic systems and entire mythologies. My novels and short stories are much richer for the experience.
I like to tell people that running D&D campaigns was the best training I ever had to be a project manager. It was also great training to be a writer.
The story isn't over. I'll be starting a new chapter soon. Who knows where that will take the story? I don't. That depends as much on my players as it does on me. But wherever it goes, it will become more history for some future campaign.
Sound like fun? Then let's roll some dice!