I've been involved in the Martial Arts for over ten years. I have a black belt, and if I hadn't become a writer on top of my day job I would be a second degree. But I got distracted by writing, and that's that.
Belt tests are some of my least favorite parts of the martial arts. I love class. I love my lessons. I love punching and kicking and knife techniques and sparring and sometimes I pretend to love forms. But belt tests are a different animal.
In short, the instructors—who are usually cool people—turn into demons that are there to push you until you're teetering on the edge of your endurance and sanity. I can do techniques all day long, but make me run around the building or scale a wall and I go to pieces. Other people lose it if they have to do defense techniques quickly, or spar more than one person. (Most people don't do well with that, by the way.) Whatever it is, the instructors will find it. And then, once you're barely standing and thinking about quitting, they ask you to do a form. Or spar. Or defend yourself from them.
On some level it's awesome. Especially after you're at the end looking back. There's nothing like knowing that you did every single Defense Maneuver you have flawlessly against guys taller and stronger than you. Or that you didn't get stabbed when they brought the fake knives out.
But in the middle of it, there isn't time to think, and if you do think, it's usually about how much some part of your body hurts. Sometimes that includes your brain.
I'm short and round and don't look much like a black belt, but when I'm in practice, I'm pretty darn good.
And that's the key to passing a test. Being in practice. Because if you're in practice, then when a fist is coming straight for your face, no matter how tired you are, you will do something. It might even be the right thing. Either way, you won't get hit, and the next moment the other guy will be on the ground and you'll think, "Hey, that really works. Oh crap, there's another guy coming."
I feel like this relates to writing. Lately I've been extremely busy, and my writing has been suffering. It's only been in the last few weeks that I've thought about the fact that I'm out of practice. I work part time and write part time, but I haven't been consistently writing. I work on marketing or editing or blogging or putting together a newsletter or a giveaway. I pour words onto the page when there is a deadline looming, but not every day. I'm out of practice. Which is silly, because I know how important it is to write each day, and yet I'm not doing it.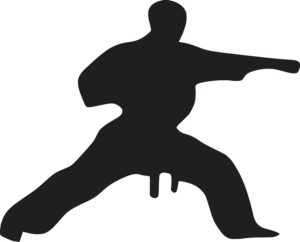 So that's my suggestion. Write each day, even if it is just 200 or 500 words. Write something. Stay in practice. Get a list of writing prompts off the web if you don't have any ideas on what to write about or you don't want to work on your current work in process. That way, when the pressure comes, and it will come, you can crack your knuckles and go for it.