A Guest Post by David Farland
Write in your sleep. The day before you plan to write, stay up a little late and plot out the scene you will write. As you do, consider where it will be set, who will appear in it, when it will occur in relation to other scenes, who will be your viewpoint character, and what actions or changes will occur in that scene. Write a quick sketch of a paragraph or two about the scene, then go to bed. You subconscious mind will worry about the scene while you sleep, piecing it together, and in the morning it will appear vividly in your mind so that you write it with ease.
Create a "Sacred Writing Space." When you plan to write, some people find it helpful to write down the goal: I will write tomorrow from 6:00 AM to 10:00 AM. Then, when you go to work, do not let anyone violate your time. That means that you don't check your mail or talk to friends on Facebook. Your writing time must be dedicated to writing only. If you plan to start at 6:00 get your butt in your chair a few minutes early, open your files, think, and begin typing at or before 6:00.  In the same way, the space where you sit must also be dedicated to writing. Some people find that over time, they get in a habit of doing some things—like watching videos—in a certain chair. It might be difficult to break that habit consciously, so it may be easier for you to move your chair or move into a new room to create your sacred writing space. I don't know why, but I tend to write with fantastic ease while sitting in airports.
Shut the freak up. Doctor Jerry Pournelle once pointed out that the desire to write arises out of a profound need to communicate. If you stop communicating with others—by turning off your television and your radio, stop talking to friends, don't answer emails, and simply let the silence grow around you, you will find that very soon your imaginary characters in your story will start speaking to each other, so that you will find yourself writing dialog. (This may take a couple of hours, but it works!)
Put yourself in the writing mood. Sometimes you sit down at your writing desk and just don't feel in the mood to write. You may be anxious about other things, or tired, or whatever. Don't let your mood derail you. Simply close your eyes and take a few deep breaths, then remember as vividly as possible a time when you were writing freely and without effort and enjoying the act. Hold that emotion for thirty seconds.  If you don't feel ready to write, try it again, only time hold in your mind a time when you felt excited to right. Hold it for thirty seconds.  If that doesn't work, try it again, only this time sit and remember times when you receive praise or awards or publishing contracts for writing. Hold the emotion for thirty seconds.  You will soon find yourself "in the mood" to write.
Develop the habit of getting into your "Writer's Trance." We all have times when we slip into our imaginary worlds fully. Sometimes it happens when you're driving, or exercising, or washing dishes, or late at night while listening to music. Once you find yourself in that sphere, simply stop whatever you are doing and write! I often keep a notepad in my car, for example, so that if I find myself vividly imagining scenes while driving, I can stop and take notes. In the same way, listening to music late at night often gives me inspiration, as does lying in bed and thinking about my book before I fully wake up. Find out what works best for you, and learn to court your muse.
Learn to think. Many times, a writer will try to sit down to write, only to find that he doesn't know what to do next. Perhaps a certain character's voice won't come, or the writer hasn't plotted his novel well enough to begin composing.  Many writers feel intimidated at this point and feel "stuck." Instead of giving up, simply imagine that you are getting up from your "stuck place," and you are moving to a more creative spot. In other words, focus your mental energy on solving you writing problem.  Getting stuck is a common part of the writing process, and it's perfectly natural. A real writer doesn't give up—instead he begin brainstorming, thinking about how to handle the upcoming scene. Simply put, you have to brainstorm the scene, looking at it from all sides, until you get excited about writing it. As ideas come to you and you look at the scene from different angles, some of those ideas will feel so "right" to you, that you'll find yourself growing eager. When you're ready, just write!
David Farland: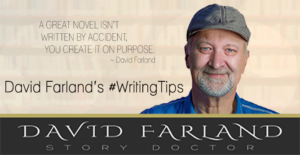 David Farland is an award-winning, international bestselling author with over 50 novels in print. He has won the Philip K. Dick Memorial Special Award for "Best Novel in the English Language" for his science fiction novel On My Way to Paradise, the Whitney Award for "Best Novel of the Year" for his historical novel In the Company of Angels, and he has won over seven awards—including the International Book Award and the Hollywood Book Festival, Grand Prize—for his fantasy thriller Nightingale. He is best known, however, for his New York Times bestselling fantasy series The Runelords.
Farland has written for major franchises such as Star Wars and The Mummy. He has worked in Hollywood greenlighting movies and doctoring scripts. He has been a movie producer, and he has even lived in China working as a screenwriter for a major fantasy film franchise.
As a writing instructor, Farland has mentored dozens who have gone on to staggering literary success, including such #1 New York Times Bestsellers as Brandon Mull (Fablehaven), Brandon Sanderson (Wheel of Time), James Dashner (The Maze Runner) and Stephenie Meyer (Twilight).
Farland judges L. Ron Hubbard's Writers of the Future, the one of the largest worldwide writing competitions for new fantasy and science fiction authors. In the video game industry, he has been both a designer and a scripter and was the co-leader on the design team for StarCraft: Brood War. He set the Guinness World Record for the largest single-author, single-book signing.
David Farland has been hailed as "The wizard of storytelling" and his work has been called "compelling," "engrossing," "powerful," "profound," and "ultimately life-changing."