Blocking. To actors that word mean three hours of standing around, listening to the director say "move a little downstage, now take a small step stage left…good…now cheat out…perfect!" and you have to remember it perfectly for the duration of the show's run. But for writers it's completely different. I mean, we can't tell the characters to cheat out. The page doesn't work that way. But in many ways, we are like the director and there are a lot of stage blocking techniques that do work well on the page.
Some of you are probably asking what exactly is blocking. The simplest definition is that blocking is the placement and movement of actors and props on stage. You can't have everyone stand in a line for the entire play. It doesn't look good and it's pretty boring. The actors need to fill the space and move about it in a way that is interesting, purposeful, and appropriate to the scene. It's the director's responsibility to pretty much choreograph all of this (in addition to everything else they're responsible for).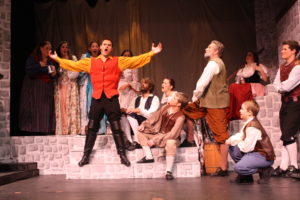 Whether there's three characters in the scene or ten, everyone needs to be visible. It's impossible for an actor to effectively deliver a line if multiple people are blocking them from view. How else are the audience going to know who is speaking?
How does that work for fiction when the reader can't physically see the characters? Well, they can see them through the viewpoint character. When crafting a scene it's our duty to be the director, to make sure that every character in that scene is visible to the POV character. If the POV character can't see them then we can't show the reader the supporting character's expressions, movements, and gestures that can add necessary depth to the scene. The one benefit that writers have that theater directors don't is that the audience can move with the viewpoint character and we don't have to wait for scenery changes. If there's something that needs to start in one room and finish in another, that's easily done in a few sentences.
So if we have more flexibility than the stage, how can their tricks help us? Again, it's all about visuals. Whether we're aware of it or not, certain arrangements are more pleasing to the eye than others. The boring straight line I mentioned earlier? Unless you have a witness looking at a line up, I can't think of another instance where it works. Why? Because it's subconsciously awkward and/or dull. For a lot of people it brings back memories of waiting to be picked for a team, and for those that it doesn't it has the feeling of waiting in line at the DMV. Heck, even in a line up scene it feels awkward but at least in that context it works. Also, lets be honest, in many situations not everyone is going to be standing in an orderly fashion. There's going to be someone standing a little apart from the group, or someone sitting. There's going to be some sort of variety and staggering and that's enough to keep the body placement from putting your audience to sleep.
Another thing you can use blocking for is to facilitate and even highlight the climactic moment in a scene. This scene from Clue is a good example. (Yes, I know. It's a film, not a play but it's one of the best examples I know of.)
Obviously the big climactic moment in this is the falling chandelier. But how to make that happen without it looking intentional, and only endangering Col. Mustard? That's where the blocking comes in. As soon as Wadsworth prepares to ram the door two characters get out of the way. They're still near enough to be part of the scene and interject with a comment or two, but they also won't impede anything — which is important given the amount of physical comedy that follows. Wadsworth's writhing on the ground in pain, causing Yvette to trip over him and accidentally fire the gun is the clever solution to how to bring down the chandelier (without a Phantom). It also provides everyone in the line of fire something to react to — dramatically — and the physical comedy ensues. It's funny, it builds tension, it solves minor plot problems, and sets up the release at the end that punctuates the joke, that is Col. Mustard's line "I can't take any more scares." The dialogue isn't much. It's all pretty plain and standard for the most part. It's pretty much the blocking that facilitates every part of the scene.
Blocking isn't that scary. If you take the time to take a long, hard look at your scenes, can be another useful tool in your artistic arsenal. Taking the time to study its finer points and mastering how to use it will make a big difference in the efficacy of your writing.